It was back to a double header sprint format at Cadwell Park for the latest round of the 2CVparts.com Championship. While Lien Davies added another win to his tally, it was a first for Brian Heerey since joining the Championship at Oulton Park.
Sandro Proietti took pole position quite comfortably over Davies, while Matthew Hollis and Nick Clarke shared the second row on a 19 car grid.
As the first of the weekends races got underway it continued to be any one from eight for the first four laps, with Matthew Hollis, Davies and Nick Clarke all sharing the lead, while Ash Carter led the second group as his quarry continued to escape.
Davies led from lap four and made a brief escape with Proietti, leaving Clarke, Mick Storey, Martin Riman, Hollis, Jim Henshaw and Heerey to fight over third.
The chasers soon caught Proietti again and Clarke was back second by the end of lap six.
Davies' break started to increase as the fight behind continued to intensify, but Hollis' hopes of another win were dashed. "I hit the bollards at the Gooseneck and it bent the front wing in," he explained. His solution was to stop and latch the offending wing against the Armco by the paddock exit gate, pull the offending wing off and continue with one open front wheel.
Storey was the next of the chasers to make a move, taking second on lap seven, as Proietti slipped to fifth behind Clarke and Riman.
Davies found his lead starting to reduce as the top four paired off though and at the flag Storey was only 0.258s adrift of the defending champion, "it didn't shoot off the line at the start as I had hoped, so it was really hard work. It was door handles with Sandro on one lap through Hall Bends," he said.
Proietti had trailed Clarke for third as they started the last lap, but it was close. "I had never led before this race and I didn't know it was the last lap either and Sandro got me at Hall Bends," Clarke explained.
"My fan had broken in the assembly area and I had to take to grass once at Charlies to avoid hitting Martin Riman. I think I overtook everyone somewhere in that race," Proietti replied after completing the podium.
Clarke retained fourth and Henshaw managed to escape from his batch to secure fifth, while Julie Walford snatched sixth on the last lap.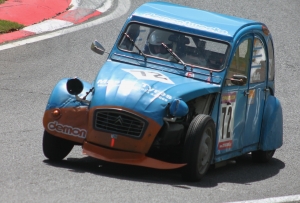 Heerey settled in seventh, "I decided to sit at the back of the group and behave," he reckoned. Riman had been as high as fourth but took the flag eighth. "It was fantastic but I lost my brakes around halfway," he said.
Nick Crispin hadn't quite managed to stick with the initial break, but had enough in hand to keep Ash Carter at a safe distance for ninth, "it was all over the place and trying to kill me at the Gooseneck," Carter added.
Mathew Hollis finally made it to the flag 11th, with Steve Walford escaping in 12th as James Dartiailh and Chris Yates took their 13th place duel to the line.
Chris Hall was next home, with John Widdowson, Nigel Hollis, Ron Mears and Richard Hollis all making it home too.
Storey had pole for race two in the car Clarke had taken to fourth, whilst alongside Ainslie Bousefield had taken over from Davies. Heerey and Henshaw shared the second row, with Luca Proietti and Steve Walford taking over from Julie, to complete the third.
Storey and Heerey were side by side from the start as they arrived at Charlies, with Bousefield in third. But as they charged down the Park Straight Storey was well down. "I had been punted off," he explained.
The lead duo started to make a break as the rest of the field continued to change and change about. Henshaw was in third, from Walford, Proietti and Matthew Hollis. But Hollis made two places on lap three and began to threaten Henshaw for the final podium place.
Bousefield was continuing to shadow every move Heerey made without actually attacking for the lead. But it all went wrong for Henshaw. "I think I was celebrating too early, lost my straightline speed and they all came passed," he explained.
Hollis, Walford and recovering Storey came by first, with Crispin and Proietti following a lap later, when third had suddenly become eighth.
Without warning the chequered flag suddenly appeared after 15 mins of racing and Heerey became a surprised maiden victor. "I felt under a lot of pressure and was permanently looking in my mirrors," he explained.
"I was planning my race and the next thing I knew it was the chequered flag. There was no warning that the race was shortened and no last lap flag," said an angry second placed Bousefield.
Storey's magnificent fightback netted him third with a lap to go." I didn't like being punted off but enjoyed coming back through the field," he admitted.
Hollis had been in third, but lost out to both Storey and Walford with a lap to go. "That was tough, I worked with Steve and actually got alongside Ainslie but there was no way through and then Luca got me at the Hairpin too on the last lap, "he said after coming home sixth.
Crispin was right behind Hollis as they took the flag, leaving Henshaw, Carter and Dartiailh to complete the top ten.
There was little to split Aubrey Brocklebank and Yates for 11th, while behind them Hall had plenty in hand over Nigel Hollis and Widdowson.
Katy Storey was 16th having been up in eighth earlier, while Mears and Marc Grasby completed the finishers.
The next round of the Championship is at Brands Hatch July 29/30th.
Full result PDF: http://www.tsl-timing.com/file/?f=BARC/2017/1719212cv.pdf