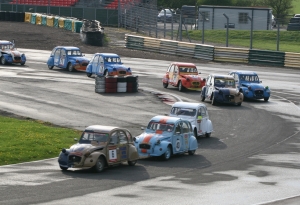 With the weather set to be 'changeable' at Croft Circuit near Darlington for rounds 3 and 4 of the 2014 2CVparts.com championship, many in the paddock were hoping for a change at the front of the field. Could anyone overcome the dominance of Peter Rundle and Pete Sparrow in the #97 Sealion Car?
During qualifying, which for both races was held on the Saturday, the answer looked to be 'no', with Pete Sparrow in pole for race 1, and Peter Rundle in pole for race 2 on the Sunday. However many in the paddock thought that the gap between the Sealion car and the rest of the field was not as big as at Oulton.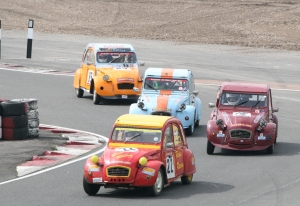 Race 1 got underway in drying conditions very late on Saturday afternoon. Sparrow got a great start, with Richard Lambert and Simon Clarke in hot pursuit. The race stayed pretty much in this order until the last lap when an audacious move by Clarke put him in 2nd place across the finish line, only 1.7 seconds behind Sparrow. The race for 4th onwards was more closely contested, with Sammie Fritchley holding on for 4th, ahead of Mick Storey and Lien Davies. Another gap behind those, and there was a good battle for 7th, with Adam Bollons taking the honours, having fought his way from 11th on the grid after some electrical problems in qualifying. He was tailed by Steve Panas, Matthew Hollis and Mike Fox, but it was anyone's guess until the last corner what order those would come through in! Everyone finished the race, but Glenn Oswin was not classified, having pitted a few times to try and cure the carburettor problems he was having.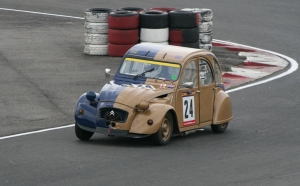 Race 2 took place in the middle of the afternoon on the Sunday, and just before the cars went into the assembly area the skies darkened and the rain began to fall. Lightly at first, meaning the track was greasy to begin with, but as the race progressed the track became steadily more wet. This produced an odd situation in a 2CV race – the leading 3 cars became very strung out, and at one stage Rundle (taking over from Sparrow) was leaving by more than 30 seconds over Matt Lambert (taking over from Richard Lambert). Initially in 3rd place was Steve Panas, but he started to slip down the order after lap 4. Taking his place was a very pleased Glenn Oswin – carburettor problems now resolved and his car running very well. Oswin was caught by the end by the charging Steve Walford, but Steve was unable to force Oswin into a mistake, and the pair finished in that order, less than a second apart but 8 seconds behind second place Lambert.
5th place was hotly contested again, and Fox, Bollons and Panas were all involved, as well as Nick Clarke – taking over from Mick Storey. Bollons started in 7th, dropped back to 10th again thanks to electrical woes, but fought back to reclaim 7th. Mike Fox was challenging hard for various places with Nick Clarke, and Panas was battling to stay with the pack. In all, places 5th to 11th were separated by less than 6 seconds. Fox took 5th, then Nick Clarke, Bollons, Panas, Simon Clarke and Kris Tovey rounding out the top 10.
A great couple of days of racing action, and all cars finished both races relatively intact! The teams and drivers are now looking forward to 2 sprint races and a 2 hour enduro at Pembrey circuit in South Wales.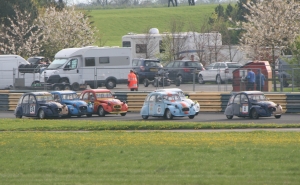 Click here to download the results and timing sheets from TSL.
Pictures from the event:
Maria's Flickr: Gallery
YouTube videos:
Sean Sidley in race 1:

James Dartiailh in race 2:

Adam Bollons in qualifying 1:

Adam Bollons in qualifying 2:

Adam Bollons in race 1:

Adam Bollons in race 2:

Mick Storey in race 1:

Nick Clarke in race 2: