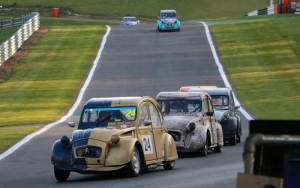 Race 1:
With front row men Pete Sparrow and Nick Crispin both caught napping at the start of the first race, it was Sandro Proietti and Lien Davies that led the initial charge through Coppice.
"I was waiting for another light, then thought I had gone too soon, stopped and everyone seemed to go by," said Crispin. "I went then bogged down too," Sparrow added.
Brian Heerey quickly snatched second and then ousted Proietti for the lead as they went through Coppice for the second time.
The top three had managed to ease clear, with Crispin having settled in solitary fourth, until Sparrow began to reign in on him.
The intensity at the front began to increase, with Davies taking Proietti for second at Park, while Sparrow had fourth at Coppice.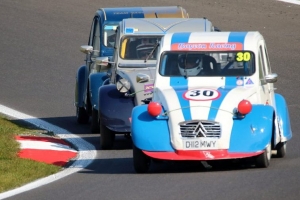 Behind them a three car battle had grown for sixth, with Steve Walford, Marc Grasby and Chris Yates nose to tail.
Back at the front it was any one from five, as Sparrow and Crispin had attached themselves to the three-way lead battle. On lap six Davies led through Coppice, with Proietti and Sparrow sharing a couple of exchanges for third.
Sparrow continued to attack and exiting Barn on the seventh lap he was into second. But Davies made it decisive through Hall Bends on the last lap, when he managed to put a backmarker between him and his rivals, to take a 2.567 secs victory.
"I kept looking for Sparrow, expecting a move," Davies admitted. But the defending champion had to settle for second. "I had sat back at the start but Lien timed it just right," Sparrow replied.
The final podium place went to Crispin, after both Heerey and Proietti had last lap problems. "The engine went over the Mountain and I had to coast to the flag," said fourth placed Proietti. "It was a fuel pick up problem, Heerey added after stopping at the Mountain crest.
Walford just kept Yates at bay as they completed the top six, after Grasby had pulled off. "I lost speed and it just cut out," he explained.
Nigel Hollis just held off Dan Willan for seventh, while Nick Clarke and Aubrey Brocklebank rounded off the top 10.
Race 2:
It was three abreast through Coppice at the start of the second race, as Sparrow led Crispin and Luca Proietti. But Proietti was second as they exited Charlies and led into the Gooseneck.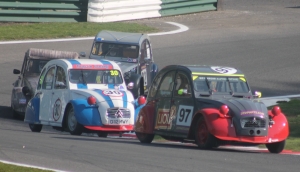 Sparrow followed but after demoting Crispin for third, Heerey exited Barn on the grass and handed the place back. "I lost it on some oil," he explained.
Having nosed ahead on the second lap, Sparrow started to build a slight gap, as Crispin was almost pushing Proietti in his quest for second.
But it all changed again when Sparrow was on the grass exiting Charlies. "Luca had a good run into Coppice and I was on the outside, so had to take to the grass," he explained.
Crispin had also lost out but it was a six car lead train of Proietti, Heerey, Crispin, Simon Clarke, Sparrow and Mick Storey to the fore.
As Proietti then retained the lead for the next three laps, Sparrow began to work his way back up the order lap by lap and as they started lap six, he was back into second.
A lap later exiting Charlies Sparrow was back in front, until he went off at Barn and handed it back to Proietti, which briefly dropped him to third, before retaking Clarke on the Mountain.
Sparrow then hit the front yet again and managed to hold on to take his third win of the year, while Proietti had just held off Heerey for second, until a late challenge handed third to Clarke and left Heerey in fourth.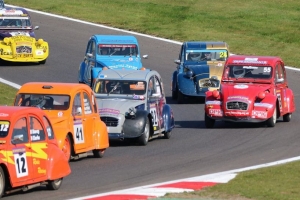 "That was a hard race as Luca kept going for my inside at Park every chance he had," said Sparrow. "I had the widest 2CV in Europe and just went for it," Proietti added.
Clarke was relieved to have finished third. "I missed a gear at the start, but then they all started fighting and it helped me," he said.
As in race one Crispin had lost his brakes again, "and I lost two places early on with an off at Park," he admitted after coming home fifth.
Storey's challenge faded as he lost power, which left Martin Riman to take sixth, after a great scrap with Yates and Julie Walford. "I went off at Park early on, then after I had got Chris I missed a gear exiting Barn and had to do it all over again," Riman explained.
Glen Oswin and Nigel Hollis followed Walford home to complete the top10 in yet another duel.
Race 3
Sparrow was in charge from the start of the third and final race, aided by a six car battle for second.
Sandro Proietti had started to consolidate second too after three laps, while Davies slipped into third at Coppice at Steve Walford's expense.
Crispin and Heerey were in the line too, leaving Yates eighth and running solo.
The gap to the lead fluctuated as Proietti came under increasing pressure from Davies, while Walford, Crispin and Heerey had their own battle for fourth, which included safely negotiating Park three abreast!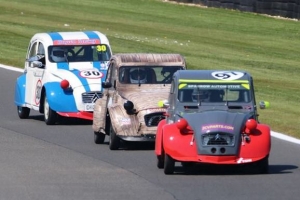 Davies made it into second at Charlies on lap seven, but had to follow Sparrow to the flag, leaving Proietti to complete the podium. "I had a few excursions again, all of my own doing. I was aware that Sandro and Lien worked to close on me, but I blame Luca even though he was in that race," said Sparrow.
"The car cut out at Charlies on lap three and I thought that was it, but it was all ok," Davies explained. "I had a good start but couldn't stay away,"Proietti added.
Heerey retained fourth, with Crispin battling back to fifth with a lap to go, which left Storey inches behind, after he took Walford on the last lap.
Yates continued in his solitary eighth, while the battle to complete the top 10 when to the last lap, when Grasby went off at the Mountain and handed ninth to Nigel Hollis. Grasby still managed to hold onto 10th however, after holding off Willan. "They didn't leave me enough room." Grasby reckoned.
Spring Bank Holiday at Mallory Park is the next round, celebrating 30 years of 2CV Racing in the UK.