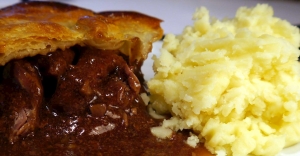 As part of our 30th year celebrations at Mallory Park on the 26th-27th of May, the club have secured over 120 dining tickets for free pie + mash (meat or vegetarian) on Sunday 26th of May to be used between 6pm and 7:45pm!
Tickets will be allocated as follows:
* 3 tickets for each entered car
* Any unclaimed tickets to be allocated by random ballot
To claim a ticket please fill in this form: http://eepurl.com/gpO9EL
You must complete the form by 8pm on Sunday 19th of May to claim your dining tickets.
Entered car tickets will be allocated in order they are received on Monday 20 May after checking with the person who entered they are valid.
The random allocation of the remaining tickets will follow and tickets issued Tuesday 21 May. The club will guarantee there will be at least 30 tickets for those who are not associated with a car for this event. It's a celebration for all who have followed and supported the race series in the past 30 years!.
There are a further 15 tickets for Marshals, BARC or Motorsport UK officials.
Tickets will be issued by email only and simply need to be printed out and given to Mallory Park diner staff on the day.