Racing was back in style at Cadwell Park, with action throughout the 2CV field before Alec Graham and Luca Proietti shared the victory spoils.
Graham had started from pole and led through Coppice on the opening lap, from Matthew Hollis and Sandro Proietti, before Lien Davies surged through into second as they arrived at Park.
By the end of the opening lap Davies was pressing Graham for the lead, leaving Hollis and Proietti to dispute third from Brian Heerey, Nick Crispin and Mick Storey.
While the lead duel intensified, Proietti made it into third on lap two and broke clear, while both Crispin and Storey edged out Heerey.
It was soon a five-car train for fourth place, as Hollis slipped into the battle and Crispin went to the fore.
The duel for the lead however had allowed Proietti to join in, but as he started to threaten Davies, Graham took the opportunity to make an escape.
But this only spurred Davies on and he snatched the lead for a lap, before Graham fought back, while all the time Proietti lay in wait.
Hollis' challenge continued to fade and after six laps the top six had split into two three-car battles. It was Graham still with the advantage, but Proietti had ousted Davies, while behind them Crispin was just holding off Storey and Hollis, before a gap to Glenn Oswin, Richard Hollis-Brown and Michael Fox.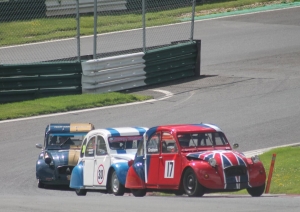 Proetti has his eyes on the lead though, he chased Graham into Charlies on lap seven, as Davies fell back. Two laps later Proietti was ahead out of Barn, only for Graham to surge back in front at Coppice as they started the last lap, sealing his round one victory by only 0.172 secs.
"That was my Pete Sparrow tactics, don't lead onto the last lap and everything seemed OK," said the victorious Graham.
But Proietti was so close in the closing laps, having succeeded in dropping Davies' challenge. "Alec was so together, but I made sure he knew I was there," Proietti added.
Davies was still clear in third but had struggled from mid-race. "We had a spare engine in this weekend, I got the lead but after a little push from Sandro at Park I lost the tow," he explained.
Despite not being happy with his new car, Crispin had held onto fourth for most of the race, but after Storey and Heerey had shared a couple of exchanges, they both made it passed on the final lap.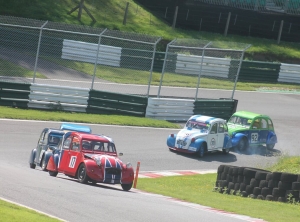 Storey took the flag in fourth, with Heerey only 0.320 secs behind, as Crispin was left to complete the top six. "That was fine, very enjoyable," said Storey. "I lacked grunt and found it hard to keep up," Heerey added. "It's just not right, that's everything," Crispin concluded.
Hollis had also struggled for pace and settled in seventh, leaving Oswin, Hollis-Brown and Fox to round off the top 10. Aubrey Brocklebank, Chris Hall, Chris Yates and Andi Donaldson completed the finishes, with Nigel Hollis the only retirement.
Although Luca Proietti had pole for the second race, once again it was Graham setting the early pace, with Storey heading the pursuit.
Proietti had slipped into second on lap two and led out of Barn, as the lead trio started to put daylight between them and their rivals, who had Davies, Hollis, Heerey and Crispin in contention.
Storey then briefly nosed ahead too, but the swaps and changes had allowed the whole of the top seven to close up.
It was a big reshuffle on lap four as Graham hit the front, from Davies, Proietti, Storey, Heerey, Crispin and Hollis, before Heerey made it into fourth at the Mountain a lap later.
Proietti had fought back into second and had started to attack for Graham's lead again, while Storey was back in third from Crispin, as Davies fell back and Heerey was missing in action. "I had a clash with Lien, we both arrived at the corner at the same time," said Heerey. "Brian took me off," Davies reckoned?
While it was down to Graham and Proietti for the lead, third was still any one from three, with Storey, the recovering Davies and Crispin, while Hollis was doing his best to hold on.
Going over the Mountain for the penultimate time it was almost side by the time they reached Hall Bends, but Graham kept the door firmly shut. But Proietti was still fighting and his persistence finally paid off.
"Timed to perfection, I got him through Mansfield after he got a bit loose at the Gooseneck. I backed off and just got him down the inside under braking and then just kept the door shut," Proietti explained after his lap success.
"One mistake, just too deep into the Gooseneck, but I thought I had it. Brilliant race though," Graham added after taking the flag 0.968secs adrift.
Storey claimed a late third from Davies. "Just brilliant, but I nearly got caught up in Lien and Brian's incident too," he said.
Crispin followed Davies home in fifth, "better but not brilliant," he reckoned, "I just had no power uphill and had to monster it just to try and catch up," Hollis added.
Martin Riman settled in seventh from lap six, from Oswin, while Nigel Hollis survived a tank slapper on the Mountain crest for ninth, leaving Yates to complete the top 10.
Donaldson, Hall and Fox were the final finishers, after Heerey and Hollis-Brown retired.
The next outing for the Championship will be the annual 24h hour race at Snetterton on August Bank Holiday 29th/30th, possibly the only chance to do a 24hour race in the UK this year.