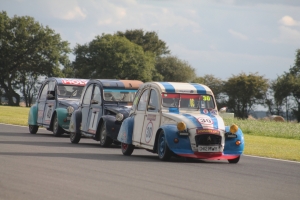 Patience, strategies, experience and little bit of luck once again proved the winning formula as Team Lion's Peter Sparrow, David O'Keeffe and Alec Graham won the 28th 2CV 24hr race at Snetterton.
In the early laps the leading UK teams were caught up with the Mini's, as Sandro Proietti tried to gain an advantage for Baycon Racing, but had Chris Bassett (Team Rebellion) and Pete Sparrow (Team Lion 1) following him through.
Bassett upped his pace still further and was a clear leader after 30 minutes, with Proietti, Simon Clarke (Team Gadget), Chris Yates (Blueberry Muffins) and Sparrow running line astern behind.
"We didn't want him to be leading at this stage, it will use our fuel up quicker," said the Rebellion crew.
But one hour down and Bassett was a still out front but only 2/10ths up on Sparrow, while Clarke and Proietti were still in their shadow, with Yates and Freddie Martin-Dye (Team ECAS) the early top six.
15 minutes later it was the first safety car, both Sparrow and Proietti took the opportunity for a quick fuel stop. "I was surprised we were staying with the Mini's, but can only just stay with Rebellion's pace, I think we will get better times in the tow and save fuel too of course," said Sparrow.
Having started late the Steve Walford Racing entry had Mick Storey in for the first stint, but despite starting from the pitlane he was already up to seventh. "We had a loose wheel and only found it late on, so didn't make the grid," he said.
The GR Racing car of Mick Moore also had to make an scheduled stop from 18th place, "the exhaust came off and it was hanging as we pitted, so we had to use bigger springs," said team leader Marc Grasby.
Keith Issatt also headed pitwards for the Vision/JPC/SRR/CSA Team from 16th. "The time goes quickly, but we seem to have got a misfire," he said as Martin Wykes took over.
Bassett made his stop after 1 ¾ hrs, "I know they didn't really want me to lead," admitted the Rebellion driver.
It was a new leader though as the two hour distance was completed, with Chris Yates out in front for Blueberry Muffins, having a lap on Gadget Racing, Baycon and Rebellion, with Walford's up to fifth and Glenn Burtenshaw sixth for Hollis Motorsport.
There were more driver changes into the third hour. But Blueberry Muffins still had a lap lead, with Christer Hallgren having taken over from Yates.
Baycon were back up to second with Philip Myatt having swapped with Proietti senior. "I did 2 ¼ hrs and that was such hard work," Proietti admitted.
Walford's climb continued as they rose to third, "it just went our way and we had a nice run through," said second stinter Nick Clarke.
ECAS were fourth with Dan Willan taking the second stint. Jelly Snake Racing had swapped Ash Carter for Malcolm Best in fifth, with Tete Rouge rounding off the top six.
Going down the order however were Rebellion, into ninth while Team Gadget had dropped to 19th. "It had all been very good and working to plan, we refuelled at the first safety car and I stayed in as I intended doing three hours, then it just stopped on the Bentley Straight. It was probably electrical but we changed the engine," said Clarke after handing the car to team boss Wayne Cowling.
Hollis Motorsport also lost extra times in the pits, "it was going well and then sounded awful, the manifold had split," said Burtenshaw as he handed to Nigel Hollis.
Team Lion hadn't escaped either, with the number 2 car having early problems, before the throttle car broke with their number 1 as O'Keeffe took over.
Into the darkness but still dry Blueberry Muffins continued to hold the advantage through the fourth and fifth hour, but Team ECAS had worked their way up to second.
The Walford crew were in trouble though and Julie had to pit with a broken exhaust, which after a temporary repair was welded.
Jelly Snake became the new third placed team, with Rebellion back up to fourth, from Tete Rouge, with Lion 1 back up to sixth too.
Blueberry Muffins hopes of glory came to an end however when their car was wiped out in a collision in the sixth hour, which gave the lead back to Rebellion once more. "James Dartiailh was having a problem with the throttle cable, stuck open and then stuck closed. We sent him out for another lap while we sourced a replacement. But it broke on the Bentley Straight and he pulled off, but was hit by Glen Oswin's Tete Rouge car. The impact was about 60mph but both drivers were OK apart from being shaken, as the cars stood up remarkably well," explained Blueberry Muffins team leader Chris Yates.
Into the eighth hour and Lion 1 took charge, having won for the last couple of years too, once again Sparrow, O'Keeffe and Graham had a plan that proved to be dominant once again.
With Paul Crosby and Philip Martin-Dye following Willan's for ECAS they too became established at the head of the field.
5am and the halfway point arrived with Lion 1 six laps up on ECAS, Rebellion were a further three laps back in third and the Baycon trio of Myatt and the Proietti's had once again clawed back to fourth and was on the same lap as MIM Racing's Nick Crispin, Dave Watson and John Cutmore.
Jelly Snake had fallen back to eighth, which promoted the Scottish Rambo team and Pork Pie Racing, while Hollis Motorsport and GR Racing completed the top ten.
As dawn broke and the hours were gradually ticked off the Team Lion 1 trio of Sparrow/O'Keeffe and Graham reigned supreme, for Sparrow it was win number 10, with victory by seven laps over the ECAS quartet of Freddie and Philip Martin-Dye, Paul Crosby and Dan Willan. "Alec had a few problems with the brakes overheating, but we only used 2 litres of oil and the engine was perfect," said Sparrow.
Graham also managed to collect one of the Liqui Moly cardboard promo girls on his last lap, taking the flag with her in the passenger seat.
Team Rebellion held third from the 10th hour, with Bassett, Tom Burgess and Phil Jose joined for the night stints by ex Legends Champion Oli Poyser, who had commuted to and from Cadwell Park and his duties at a British Superbike race engineer.
The Rambo Team of Derek Coghill, Ian Gibbon and John Paul Wilkinson stemmed the Jelly Snake recovery, taking third place away with three hours remaining.
The Ash Carter, Malcom Best, Alan Wiltshire car, finally taking sixth, after Gadget's Clarke, Cowling, Ainslie Bousefield and Lien Davies pipped them two hours from home. It also crowned Davies as the overall Champion too for the second successive year.
The Pork Pie racing quartet of Chris and Don Hall with Colin Wilson and Jon Harmer held seventh over the last four hours, with Hollis Motorsport's Matthew, Richard and Nigel Hollis joined by Burtenshaw eighth and Walford's were ninth following two engine changes, which included putting the rebuilt original back in.
The Blueberry Tarts team also made it home 13th with Maria Cooke, Shirley Hennessy, Jess Owen and Katy Storey, having fuelled and done a driver change at every stop and only having replaced the gear linkage.
Vision/JPC/SRR/CSA completed the top 10 with Kev Fulbrook, Keith Issatt, Martin Wykes, Rob Rees and James Poulton, as the Baycon trio lost out on a probable eighth with a late engine change.
Away from the UK Championship the BNLL trio of Thierry de Bonhomme, Laurent Joussiaux and Rudy Coppetiers took the overall win in their Dyane Hybrid and the Mini class went to Ade and Simon Tuckley with Alan Eason and Ashley Shelswell.