Unusually for South Wales in May, the sun was beating down hard on the 21 shiny cars that entered the two sprints and the 2-hour enduro at Pembrey Circuit. Unfortunately some of those cars would be less shiny by the end!
A lap of Pembrey in a 2CV is a case of braking only twice – once for Hatchett's hairpin, and once for Brooklands hairpin. The rest of the track is pretty much flat out, full throttle. This can make for good close racing, but can also cause serious accidents if a mistake is made in close formation. Qualifying demonstrated this, when Mike Fox's car got out of control and was collected by Tom Perry. Both cars were sidelined for the rest of the event, with serious chassis damage.
Unfortunately for Mike Fox, he had qualified 2nd for the both races! However, it was the familiar name of Pete Sparrow topping the timing sheet for the first race, despite having 4 laps disallowed for exceeding track limits! Lien Davies qualified 3rd, with Matt Lambert 4th, then Nick Clarke, and then Simon Clarke rounding out the top 6.
With a gap in 2nd place where Mike Fox's car should have been, and a gap in 3rd place where Lien Davies should have been (he was sharing his car with Tom Perry), the first race got under way and all expected Sparrow to take off into the lead never to be seen again, but Simon Clarke was able to push Sparrow all the way to the finish – with just 0.178 seconds between them at the end. Clarke made a few attempts at claiming the lead, but Sparrow was able to claim back the lead each time. Things were more unsettled for 3rd place honours, with Matt Lambert initially leading over Nick Clarke, Sammie Fritchley and Steve Walford, but with Lambert, Nick Clarke and Walford all receiving penalties for exceeding track limits, 3rd was eventually claimed by Glenn Oswin who had made his way up from 8th. Fritchley took 4th just ahead of a close pack of cars consisting of Matt Hollis in 5th, Caryl Willis in 6th and Hugh McCurrich in 7th. Nick Clarke finished 8th with his penalty, and Nick Crispin narrowly fought off Adam Bollons to finish 9th and 10th respectively.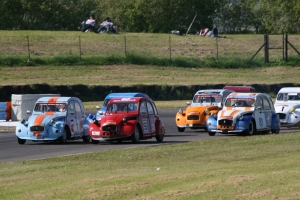 The second qualifying was dominated again by Peter Rundle in the #97 Sealion car, with Mike Fox taking 2nd spot. Mick Storey, in a different car from the one he was driving in the first race (which ran out of brakes!) lined up 3rd, followed by Simon Clarke, Nick Roads and Glen Oswin. Kris Tovey qualified 7th, and then another gap in the starting grid as 8th was claimed by Tom Perry, who would be unable to take the start due to his damaged chassis.
As the second race got underway, it became clear that Rundle was not going to have it all his own way – due to a series of engine failures, the Gadget team were running a replacement engine supplied by Sammie Fritchley, and Clarke was feeling fast and punchy. Lap after lap saw Clarke attempt to get past Rundle, particularly down to the turn one hairpin, and it was only some bold defensive driving on the part of Rundle that prevented the pass. Nonetheless, Clarke managed to get past Rundle on a couple of occasions, and on the last corner of the last lap had just about managed to wrest the lead from Rundle to take the victory – the first win for a different car this season. Mick storey led home the chasing pack for 3rd place ahead of Nick Roads, Glenn Oswin, Kris Tovey and Julie Walford.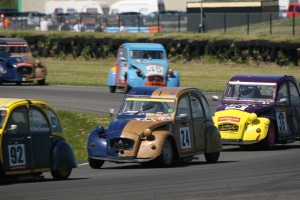 Incidents further down the pack resulted in Sean Sidley losing his brakes and spinning into turn 1, collecting the car of Adam Bollons. Katy Storey was tagged by a sideways Nick Crispin and then spun into the side of Richard Lambert's car, causing quite a lot of damage, and Steve Panas' engine expired on lap 3. Overall, quite a race of attrition in the end.
The 2 hour enduro took place on the Sunday, and featured most of the drivers who had taken to the track the day previously, with a couple of additions. Sparrow and Rundle took pole in the Sealion car, Simon Clarke in second, and Louis Tyson and Sammie Fritchley shared the car which qualified 3rd. In the race, the duo of Sparrow and Rundle dominated the proceedings, but 2nd place was an interesting battle between Richard and Matt Lambert (#43 car) and Simon Clarke and Lien Davies (#6 car). Sammie Fritchley and Louis tyson were also in the mix certainly in the early stages, and with 3 pit stops expected of each team (to allow up to 4 drivers) during the 2 hour race, it was anyone's guess as to who would finish in second. In the end though it was the Lambert car that took 2nd place honours over Clarke/Davies by a margin of 7 seconds. 4th place went to Steve and Julie Walford, 5th was the partnership of Kris Tovey and Caryl Wills, 6th was Nick Crispin (on his own) and 7th was the Roads/McCurrich entry. A great race with battles up and down the order, and some tense moments in the pits too!
Click here to download timing sheets and full results from TSL
Click here for some YouTube video links from various cars.
Maria's Flickr album for the weekend
Next race is at Cadwell Park circuit in Lincolnshire. Don't miss it!