There was no shortage of action again as the 2CV Championship visited Oulton Park with a 23 car grid.
Pete Sparrow just pipped Ainslie Bousfield for pole in race one, but it was Sparrow with the lead into Old Hall, from Bousfield, as Lien Davies and Sandro Proietti duelled for third.
As the lead quartet had started to build a gap by the end of the first lap, Nick Crispin led the chasers, with Matthew Hollis and Nick Roads on his heels.
As the top three continued to fight, Davies struggled to stay in touch, similarly Crispin had already lost out to Hollis and Roads, before Steve Walford came by too as they completed the second lap.
Already missing though were Alec Graham and Ash Carter, before Proietti joined them too. "Coming over Hilltop it caught fire as the battery had cooked itself," said Graham. "My throttle pedal snapped when I was tucked in tight behind Ainslie, so I had to park it," Proietti added.
Having continued line astern for the next three laps, Bousfield snatched the lead into Old Hall but was soon back to second, while Davies was still hanging on too, despite having lost his brakes.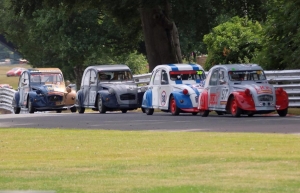 Behind them Roads and Hollis had continued to swap and change for fourth, as Walford started to consolidate sixth. Mick Storey was up to seventh, with Crispin trying his best to hold on.
It had already been close but it got even closer, with the top three completing the seventh lap virtually side by side, before Bousfield nosed ahead again into Old Hall.
Time had almost run out but it was still any one from three onto the last lap. But as they arrived at Lodge for the final time Bousfield was still ahead, but there was contact with Sparrow. "I was defending on the inside and hit me, tucking the rear wheel under the car. It had been a good race until then," said Bousfield.
Sparrow took the flag first on the road, but was given a 12 second penalty, dropping him to fifth behind Bousfield and handing victory to the brakeless Davies.
Roads finally held off Hollis for third, but both were promoted following Sparrow's penalty. "My first podium," said Roads. "We were each quicker on different parts of the track and were almost on the leaders pace. But it didn't handle well," Hollis added.
Storey finished a solitary sixth. "I was following Nick Crispin for a while, but his kept missing on the corners and then he finally stopped," he said.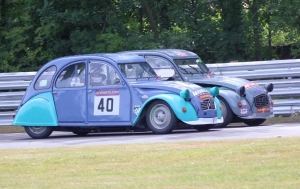 Storey's next target had been Walford, and that change came a lap from home. "Steve was just in front of me, but his gear lever came off, jammed the steering wheel and he couldn't turn so spun," he added.
Walford still managed to hold onto seventh with Crispin retiring, while Marc Grasby and Chris Yates finished inches apart, as Nigel Hollis completed the top 10. "That equalled my best finish, but I was nearly out of fuel," Grasby admitted. "I was so tempted to have a go at Marc into Lodge on that last lap though, "Yates added.
Debutant Darren Shepsman just missed out on a top 10, while Richard Gardiner, Roy Eastwood, Aubrey Brocklebank, John Widdowson, Brent Savage, Michael Fox and Chris Hall were the other finishers.
It was close again from the start of race two, but Sparrow led initially, from Luca Proietti, Brian Heerey and Mick Storey.
It was Proietti that started to press Sparrow for the lead on lap two, leaving Heerey and Simon Clarke to fight for third, as Storey started to fall back.
But as the top four closed up again on lap three, Tom Perry had ousted Storey for fifth and both had managed to latch back onto the lead group.
Behind them Hollis had gone solo, while Graham and Julie Walford disputed eighth, having eased clear of Grasby.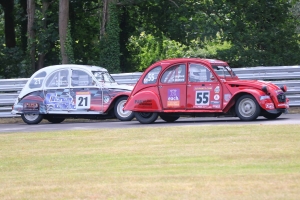 Heerey was on the move though and having taken Proietti at the beginning of lap four, he led down the Avenue a lap later, before Sparrow was back alongside at Lakeside.
Although Sparrow got back in front, it was Proietti next to challenge, as he joined Sparrow and Heerey for the charge up Clay Hill.
Sparrow led at the end of the lap, but Clarke had managed to jump Heerey and Proietti into second, until he went for a field trip at Old Hall. "I was trying to get Pete and just lost the rear end and spun into a field," Clarke admitted after falling to ninth.
Proietti was the new leader, but Perry had managed to split him from rival Sparrow, as Heerey started to fall back.
Onto the last lap but it was desperately close, with Proietti was just holding on as Sparrow had reclaimed second from Perry. "I thought I had him held off enough at Cascades, but he was right behind and I tried to cover him," said Proietti.
"I got him into Island, I tried to slingshot at Cascades and kept the outside line up to Island, so by Shell I was in front," said Sparrow after clinching victory by 0.979 secs.
Perry finished a fairly solitary third, with Storey taking fourth after Heerey's challenge faded. "Once the Gadget boys went by I got left after losing the tow, disappointed really," said Storey.
Hollis also struggled on his way to fifth. "I lost it all on the first lap," he reckoned. But despite his earlier excursion Clarke still fought back to sixth, with Heerey finally coming home seventh, while Walford shook off Graham for eighth, in her first race back after a broken ankle.
Crispin just rounded off the top 10 from Grasby in another troublesome race. "It was still misfiring and cutting out, an electrical problem," he said.
Martin Riman was 12th, with Chris Yates and Katy Storey inches apart behind him. Gardiner, Nigel Hollis, Shepsman, Adam Bollons, Fox, Savage, Eastwood, Hall and Widdowson completed the finishers,
The final sprint weekend of the season is at Donington Park on July 21/22, before the annual 24 hours at Snetterton August 17-19.